Ask A
Sex Therapist

is for you
if you are ready to spice up your

Sex life
You are ready to learn all the things you were never taught about sex, intimacy and great communication in the bedroom. You are excited to explore your own body and feel more connected to your partner. You want to feel body confident, allow yourself to experience greater sexual pleasure and feel accepted for your fantasies and desires. If you are ready to take your relationship to the next level, get rid of the shame and stigma around sex and create happier, more fulfilling love life, this is the show for you.
Hosted by Heather Shannon, Certified Sex Therapist, you'll be taken on a journey to release your sexual inhibitions and embrace your authentic sexual identity. Because it's time for you to Ask a Sex Therapist. Find out more about Heather's work and ask her your (anonymous) sex questions at https://HeatherShannon.co.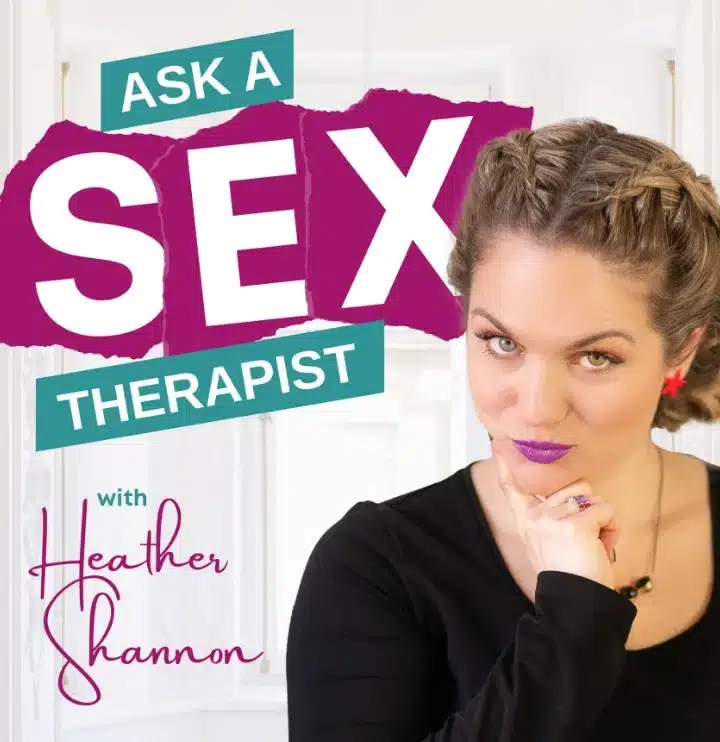 Amazing positive information!
I met Heather at Podfest and was so excited to hear about her podcast! I have loved loved loved following these episodes – everything is so positive and upbeat, and so needed in this world! I have been highly recommending her podcast to everyone …Read More
Amazing and Wonderful!
As a certified sex therapist myself. I am very discerning about podcasts, having both listened to and been on many. This podcast and the host, Heather, are top notch! Heather is very knowledgeable and has a down to earth style that makes learning …Read More
Laurie Mintz Phd, 03/28/2023
So refreshing!!
The podcast I didn't know I needed – thank you, Heather! Want to free yourself from those yucky old beliefs about sex? Highly recommend – listen to go deeper!
You can listen to 'Ask A Sex Therapist' on Apple Podcasts, Spotify, YouTube or wherever you listen to podcasts.
Click below on the individual episode to see the description, episode links & resources and a full transcript.